How to plan Native American Indian Flute and Culture Concerts or Workshops in your area!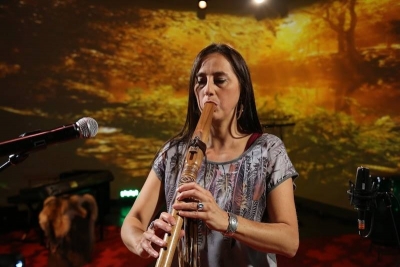 Allo, hi, kwe!!! My name is Nathalie Picard and my Huron-wendat name is Shendaehwas. I am from the turtle clan. I am a professionnal musician and I have been touring in Canada, USA and Europe for more than 30 years to give concerts and workshops on Native American Indian music & culture. I studied transverse flute at the Quebec city Conservatory and did my Baccalauréat degree in Jazz & pop music interpretation at University of Montreal, where I also studied Electroacoustic music composition. I specialized in Cuban music and studied in Havana with maestro Richard Eguës from Orquesta Aragón so I played with different latin jazz formations of Montreal's jazz scene for more then 20 years. (Listen to my flute on the albums Encuentros by Yoel Diaz Cuban Jazz Session or Listening through the wind by me on your favorite streaming platform. Some of my original Huron-wendat songs and North Indigenous Flute music is also available in my store on this website.)
I am also a storyteller & composer and sing traditionnal Native American Indian songs with the drum, and my own original songs in my tribal language. Huron-wendat language was dormant for more than a century and is now being learned again in our community, thanks to our revitalization team & language teachers.
If you would like to plan a private concert at your house, in your inspiring space, or in a small venue or if you are organizing concerts for your community's or cultural, spiritual, artistic, musical, tribal, public events in your area; or a surprise for your classroom, special business meetings, a gift for someone's retirement party or for an elders home, for your group of friends or your association, etc., conctact me and we can talk about this. The Native American Indian flute is a very soothing and special instrument that will deeply touch the heart of a public of all ages.
» Share: